RECIPE: PAN-SEARED CHESHIRE PORK BELLY WITH VIRGINIA PEAR CHUTNEY
Nothing makes us happier than a good pork belly recipe! Crispy skin, tender, flavorful meat… there's just something special about a well-cooked belly. Lucky for you (and us), Chef Gary Cooper of Brabo Brasserie in Alexandria, VA shares his version complimented by charred red cabbage and a homemade Virginia pear chutney. We dare you not to drool!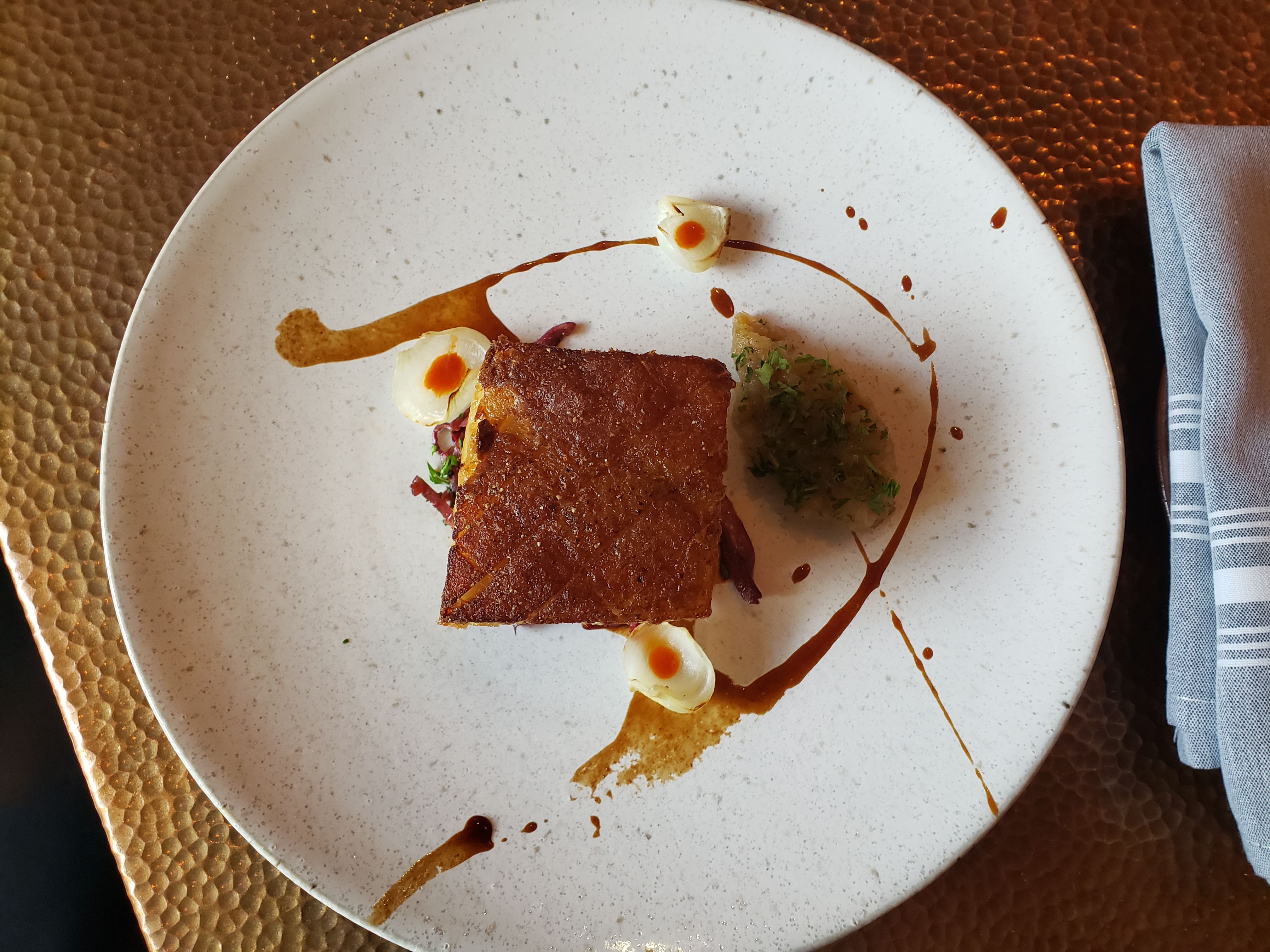 Recipe: Pan-seared Cheshire Pork belly, with Sautéed Red cabbage, Pork jus, Virginia pear chutney and house ferment chili puree
Pork Belly Braise
1ea Cheshire Pork belly
1bunch thyme
1bunch rosemary
6 garlic glove whole
1 white Onion quartered
1 bunch of celery rough chopped
8-ea. large carrot, peeled and rough chopped
4qts pork stock
4oz Bourbon
Kosher salt and black pepper to taste.
PORK BELLY PREP
Turn your oven to 275 degrees. Place a large pan or Rando on medium heat. While the pan warms up, open your pork belly and lightly dry off the skin to help it sear better. Season your pork with a good amount of salt & pepper. Add a small amount of canola oil to the hot pan and coat the pan in a thin layer. Place the pork belly skin side down and sear til the skin has become crispy, then flip your pork belly to the meat side and sear again. Once the belly is seared and golden, remove from the pan and place in a deep braising pan.
Add your cut vegetables, herbs and garlic to the pan, cook until deep in color, turn off the heat, and deglaze the pan with your Bourbon. Turn you heat back on low and then add you pork stock. Simmer for 5min and then pour the liquid and vegetables over the pork belly making sure the pork is covered by liquid. Cover the pan with plastic wrap and aluminum foil tightly and place in the oven to braise for 2hrs. Once a fork slides in the meat with ease the belly is ready.
Remove the pork belly carefully from the braise and place on a parchment paper lined sheet tray. At this time, place another piece of parchment on top of the belly and another sheet tray to add weight ( 2 large cans of tomatoe/ 10lb kettle bell, etc) to press the belly for easy cutting. Then place in the fridge to cool.
Pour the braising liquid in a pot and reduce until the sauce thickens. Stir in the vegetables and reduce again until you reach your desired thickness.
Once the pork belly is pressed and cooled, portion to the size of your liking
Charred Red Cabbage with red onion
1 ea Red Cabbage thinly sliced
1 ea red onion thinly sliced
½ cup fresh thyme picked and chopped
1tsp sherry vinegar
1cup canola oil
Kosher salt and White pepper to taste
Steps
Take the red cabbage and cut in half vertically and remove the core and slice as thin as possible, do the same to 1 red onion.
Pick and chop the fresh thyme and set aside
Place a large pan or cask-iron on a high on a burner with no oil
In a large mixing bowl place the cabbage and onion and toss with oil, salt and pepper. Once tossed well put the mix in the hot pan and do not move for 1min then sauté and let sit still in the pan until charred but not burned.
Once cooked place back in the mixing bowl and add sherry vinegar and fresh thyme.
Adjust seasoning and enjoy.
Virginia Pear Chutney
1 Virginia golden Orchard Pear, small diced
2 Shallots peeled, and minced
4 cloves garlic minced
1oz Brandy
1 tsp Ras al Hut spice
1/8cup packed brown sugar
¼ cup apple cider vinegar
Kosher salt and White Pepper to taste
Unsalted butter for cooking
STEPS
Place a medium saucepan on low heat and add butter in the pan. Once melted add the shallots, garlic, and pears sweat until tender. Once tender, add the brown sugar and cook until the sugar melts and remove from heat. Add the brandy and spices.
Cook low and slow until slightly sticky and most of the liquid is gone.
Adjust with salt and pepper to your liking and cool.
Fermented Hot Sauce
10 Thai chilies
10 Fresno peppers
20 cloves garlic
½-cup brown sugar
1 small piece ginger
¼-cup water
De-stem all chilies and rough chop along with the garlic and ginger. Place in a blender along with the brown sugar and enough water to get it blended.
Blend until a chunky salsa like texture. Place in a glass or food safe container, cover the top with cheesecloth, and secure with butcher twine or a rubber band. Leave in a low light, room temperature place for 3 days.
After three days place in a blender until smooth and pass through a fine mesh strainer.
Take the liquid and boil until the thickness of your liking, constantly stirring.
Chill, bottle, and enjoy.