Recipe: Koji Cured Heritage Farms Cheshire Pork Tomahawk by Chef Venoy Rogers III
This week, we're heading down to the land of sunshine to hang out with Executive Chef Venoy Rogers III of the American Kitchen Bar & Grill in Lake Buena Vista, Florida.
After 11+ years of culinary experience and traveling across the country to well-known destinations including Phoenix, Palm Springs, Aspen and Miami Beach to name a few, Chef Rogers found his home at American Kitchen Bar & Grill, leading the restaurants open concept in the Disney Springs area. "My philosophy in the kitchen is to have fun with food and express myself from the heart," Chef Rogers said. "To make good food you need great ingredients and you need to have some fun doing it."
Chef Rogers has participated in culinary competitions like the San Diego Bay Food & Wine Fest, as well as the Little Italy Festival, where he won "Best Taste" in 2014. In September 2013, Chef Rogers appeared in an episode of Food Network's Chef Wanted with Anne Burrell, in which he beat out three other candidates to become the next chef de cuisine in Las Vegas.
We're so grateful to have him on our Hog Blog sharing a delicious recipe for a Koji Cured Heritage Farms Cheshire Pork Tomahawk!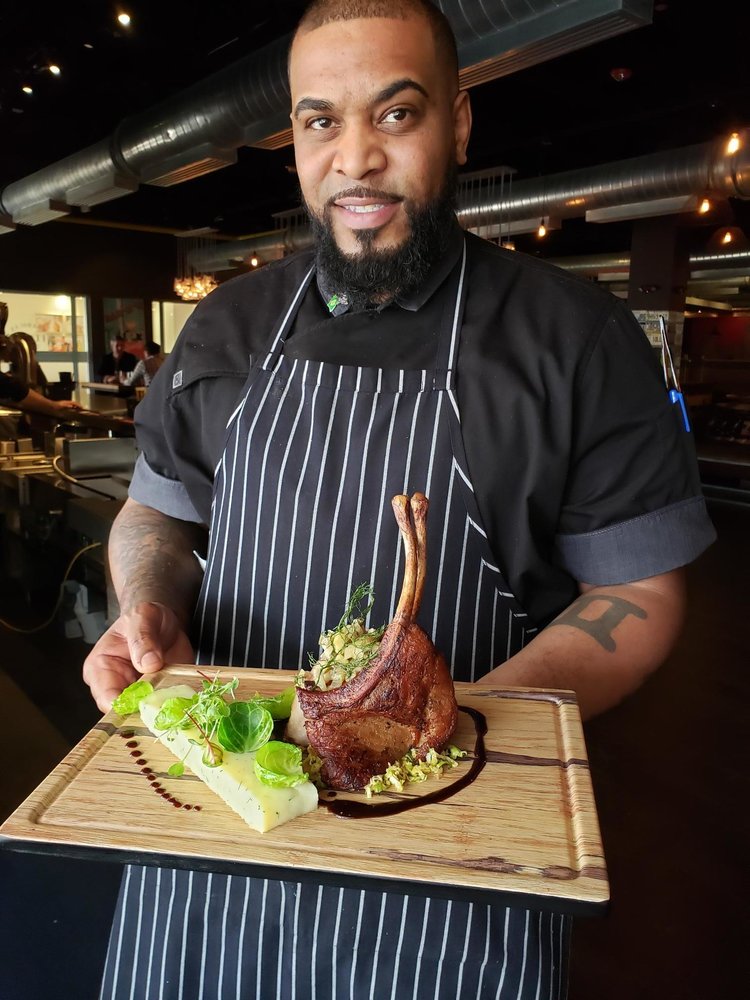 Koji Cured Heritage Farms Cheshire Pork Tomahawk with Whipped Parsnip-Potato Mash + Roasted Apple and Fennel Chutney + Brussel Sprout slaw
Ingredients:
For the Pork-
3 tbsp ground koji
2 thick cut Tomahawk pork chops (2 bone each)
2 tsp red boat salt
1 tsp black pepper
Directions:
Completely dry the surface of the pork chops with a paper towel. In order to keep the shape during cooking you may want to truss the chops with butchers twine; around the eye and around the bone (this step may be omitted).
Sprinkle the powdered koji all over both chops evenly and allow to rest on a wire rack in your fridge for 3-5 days. The koji will begin to extract some of the more moisture from the chops and the meat will take on a dry aged appearance and texture. This will intensify the already rich flavors of the Heritage Farms Cheshire Pork. The koji will also impart some of its own umami flavor onto the surface of the pork chops (thank me later).
After 3 days but no more than 5, rinse the koji from the chops and pat dry. Season the chops with red boat salt and black pepper.
In a hot skillet add oil and pork chops and sear the chops on both sides until golden brown, approximately 3 minutes per side.
Place pork chops into the oven and cook until desired internal temp. I recommend medium to medium-well, which can be achieved in about 6-8 minutes at 400 degrees F.
After chops are finished in the oven you can return to the pan and baste with whole butter and fennel pieces. You can also cook these sous vide at 145 degrees F for 2 hours. If you want to go the sous route you will sear after removing from the water bath.
For the Mash-
6 parsnips (peeled & chopped)
2 medium sized russet potatoes
4 tbsp unsalted butter
½ cup heavy cream (whole milk can be substituted)
2 tbsp fennel fronds (chopped)
Salt and pepper to taste
Directions:
Add potato and parsnip to a pot and cover with water. Boil for approximately 15-20 minutes until both are completely soft.
In a separate pot heat the cream and butter until melted.
Drain the parsnip and potato in a colander and return to the warm pot.
Off heat, add the cream, butter, fennel fronds and salt + pepper. Using a potato ricer or masher, fully incorporate all ingredients.
For the Warm Apple and Fennel Chutney-
2 each, granny smith apples (small diced)
1 each, fennel bulb (small diced)
1 red onion (small diced)
1 tbs olive oil
Salt and pepper to taste
Directions:
Saute all ingredients until semi soft but remains al dente. Approximately 2-3 minutes. Season with salt and pepper.
Warm Brussel Sprout Slaw-
1 lb brussel spouts
1 tbsp herb butter
2 tsp bacon fat (cooking oil or butter can be substituted)
Salt and pepper to taste
Directions:

Cut off the stem end of the brussel sprouts and reserve a few leaves for garnish.
Cut sprouts in half and slice thinly.
In a hot pan add the bacon fat then the sliced brussel sprouts and saute for 1-2 minutes until soft and color brightens up. If you are using bacon fat, be sure to taste so as not to over salt. Adjust accordingly.
Calvados-Pork Demi Glaze-
1 quart pork or beef stock
1 cup Calvados (apple brandy)
½ cup apple juice
1 shallot (rough chopped)
4 garlic cloves (smashed)
¼ cup fennel (rough chopped)
1 tbsp butter
Salt and pepper to taste
Directions:
In a sauce pot add the shallot, garlic and fennel and saute for 2-3 minutes until translucent and starting to caramelize.
Deglaze the pan with Calvados and allow to reduce by half. Once brandy is reduced, add stock and apple juice and allow to reduce until desired consistency. The longer you let reduce the more intense the flavor will become. Ideally this will take 10-12 minutes to achieve the consistency in which the sauce will coat the back of a spoon.
Once you have reached your desired consistency, strain out the aromatics and return to a pot and finish with butter and salt + pepper.
(All photographs courtesy of American Kitchen Bar & Grill and Chef Venoy Rogers III)