RECIPE: HONEY-GLAZED CREOLE PORK TENDERLOIN WITH JAMBALAYA STUFFING
We love a delicious stuffed pork tenderloin recipe, especially when it incorporates one of our favorite dishes, jambalaya! This sweet and savory recipe by Chef Glenn Lyman from G Cooks has us drooling and craving this explosion of flavor. Chef Glenn uses a Lynx Grill as he prepared this #porktastic recipe! Enjoy!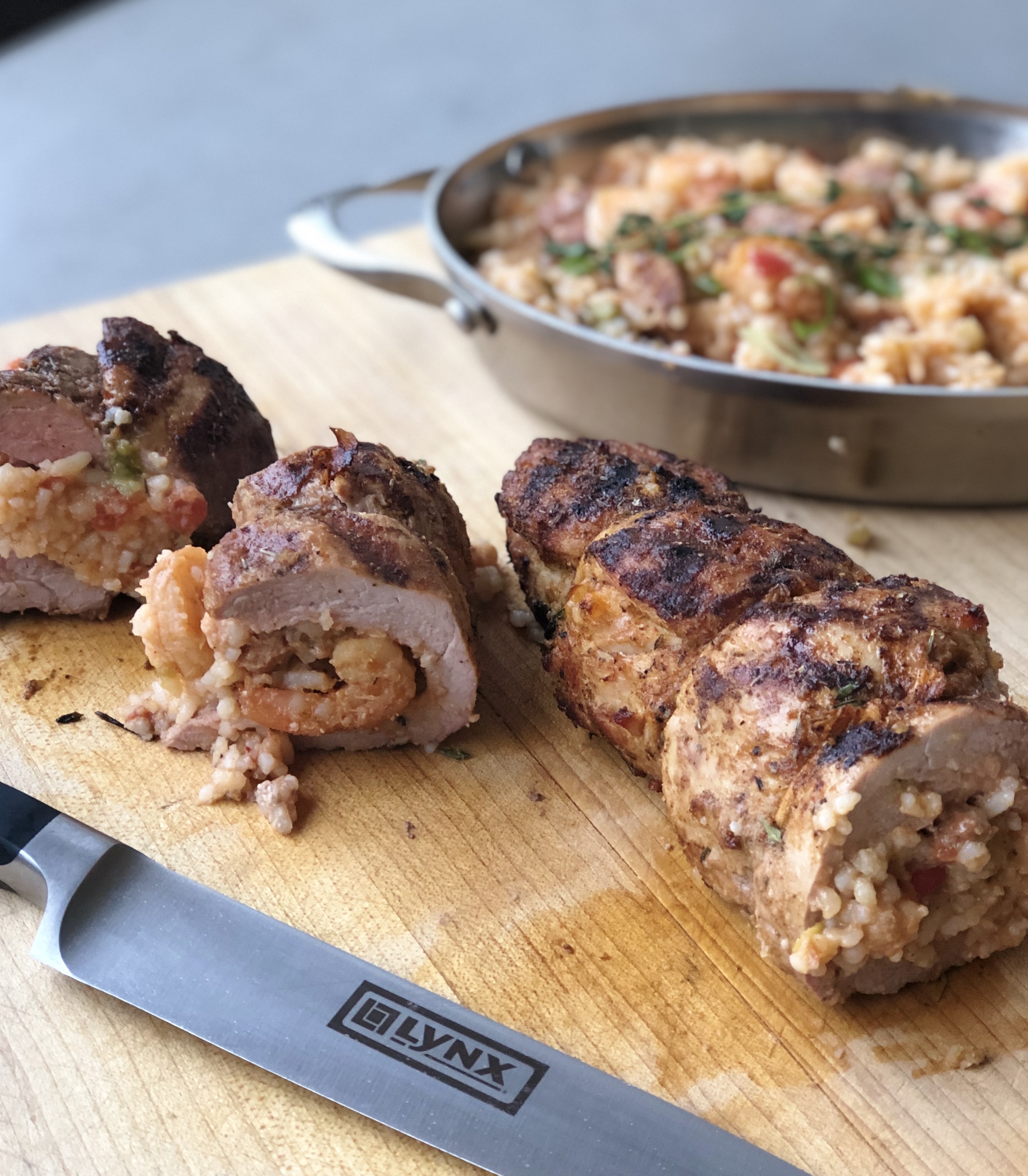 Ingredients
For the Jambalaya:
2 T. olive oil
1 cup chopped Vidalia onion
½ cup chopped green bell peppers
½ cup chopped celery
3/4 pound medium shrimp peeled and deveined
1 bay leaf
½ pound Cheshire Pork Andouille Sausage cut up into ½" quarter-round pieces
1 can (14 ½ ounces) diced tomatoes, with juice
1 T. garlic chopped
1 t. kosher salt
T Tbls. Creole seasoning
1 cup long grain white rice
¼ cup chopped green onion
Directions:
Heat the oil in a large heavy bottomed pot over medium-high heat. Add the onions, peppers and celery and cook for 4-5 minutes until vegetables begin to soften. Add the sausage and bay leaves and cook for 2 more minutes. Add the shrimp and garlic. Cook, stirring occasionally, for 2 more minutes until the shrimp turn opaque. Add the tomatoes, salt and Creole seasoning. Bring to a simmer and cook for 5 minutes stirring occasionally. Add rice to submerge, but do not stir. Cook covered over medium-low heat for 20-25 minutes or until rice is tender and the liquid has been absorbed.
Remove from heat and let rest, covered for 5 minutes. Remove bay leaf and stir in green onions.
Transfer to a large bowl or rimmed baking sheet to cooling. Can be done 1 day ahead covered and refrigerated.
For the Pork
2 Cheshire Pork Tenderloins, about 1 pound each, trimmed
¼ cup honey
¼ cup butter melted
1 T. Creole Mustard, or Dijon
4 sprigs of fresh thyme
4 t. Creole seasoning
1 t. Kosher salt, or to taste
Olive oil
Green onion, chopped for garnish
Special equipment: Kitchen string
Directions:
Butterfly pork tenderloins, leaving ¾" from edge and open up like a book. Place between two pieces of plastic wrap and gently pound into a rectangle to approximately ¾" thick.
Place 1 cup of jambalaya onto each the tenderloins and spread out evenly, leaving about 1" around the edges.
Close up like a book overlapping edges and tie in four places with kitchen string to secure. You may lose a little stuffing. Reserve it with the remainder of the unused jambalaya in a small tin container covered with aluminum foil.
Tuck thyme sprigs under the string. Season with salt and Creole Seasoning. Drizzle with olive oil.
Set up Lynx grill for direct/indirect medium heat. When grill is hot, sear pork on one side, directly over the heat for approximately 5 minutes, rotating 45 degrees, once halfway through.
Turn pork over and move to indirect heat over a drip pan. Place foil-covered, reserved jambalaya next to pork over indirect heat. Cover the grill and continue to cook for about 10 minutes.
Meanwhile, mix honey, butter and Creole mustard in a small bowl. After 10 minutes open lid and brush with honey glaze mixture. Close the lid and continue to cook for 7-8 more minutes. Remove and allow to rest 10 minutes before removing kitchen string, discarding thyme and slicing, on the bias, into 4 pieces each.
Serve over divided, reserved jambalaya and garnish with more green onion and chopped parsley.