RECIPE: EAST MEETS WEST BRAISED PORK TOSTADAS
We are excited to welcome Chef Mario Huante of Chef Mario's Inc. to the #HogBlog!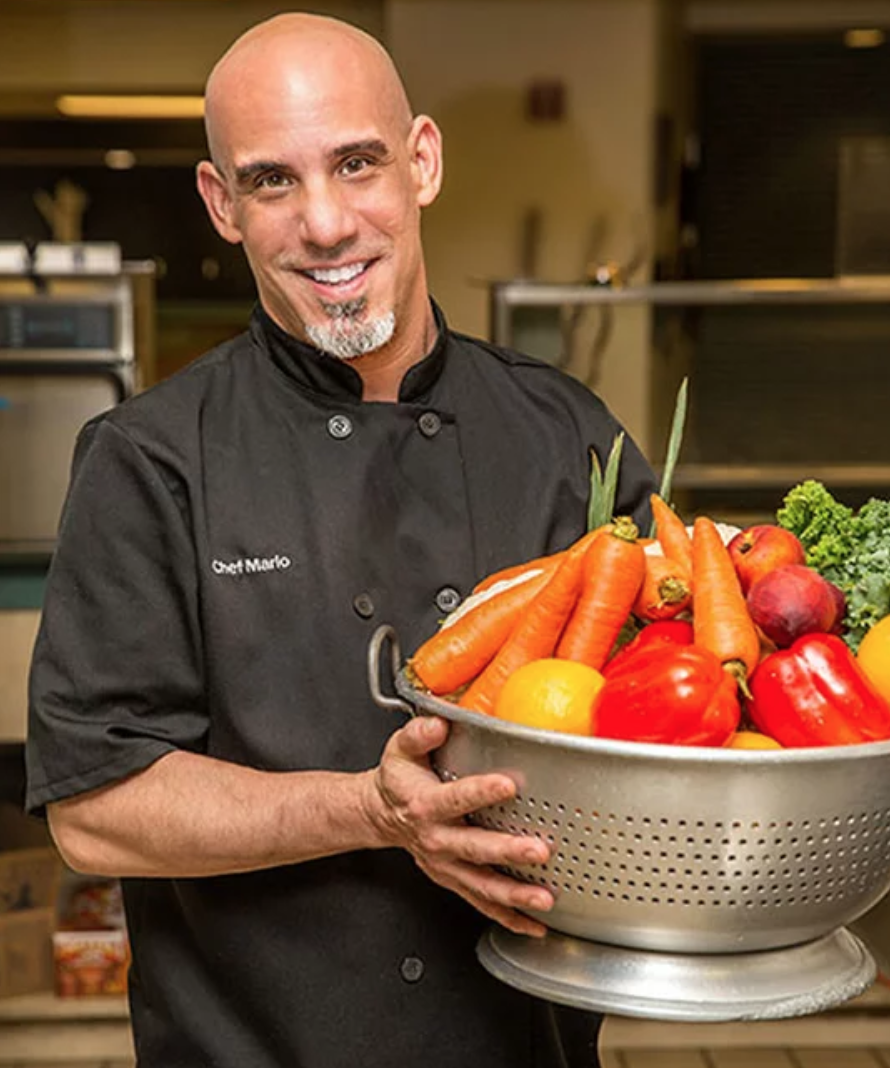 "Chef Mario Huante began his culinary career washing dishes, when he was about 14, in a small restaurant in Burlington, Vermont where he was born and raised. After the thrill of moving up from dishwasher to "putting the sauce on the spaghetti" wore off, Chef Mario went to Culinary school at both Johnson and Wales in Providence, RI and finished his school education at the New England Culinary Institute in Essex, VT in 1989.
His initial career took him from Vermont, to Rhode Island, and then on to Florida where he worked as a Banquet Chef and Supervisor. Eventually, he made his way to North Carolina where, after working for an upscale catering company, he had an "entrepreneurial seizure" and began his personal chef career in 1998.

He began just as most traditional personal chefs do: he brought all of his pots and pans to his clients homes where he would prepare their weekly meals (always from scratch), fill up their refrigerators with his freshly prepared fare, and then depart. As demand for his services grew, it just became impossible to cook 'in-home' for everyone he needed to cook for and in September 2002, he moved into a commercial kitchen in the lower level of a historic home in Cary, NC and became the only personal chef service to deliver meals directly to their clients. As demand grew greater still, he moved into a larger commercial kitchen just off Lake Boone Trail and the beltline, down the street from Rex Hospital where we now operate a full service Catering Business as well as Personal Chef Service since approximately August of 2005 and Chef Mario's Inc as you know it now was born."
Chef Mario has prepared a delicious recipe for us using #CheshirePork Pork Butt! Let's get started!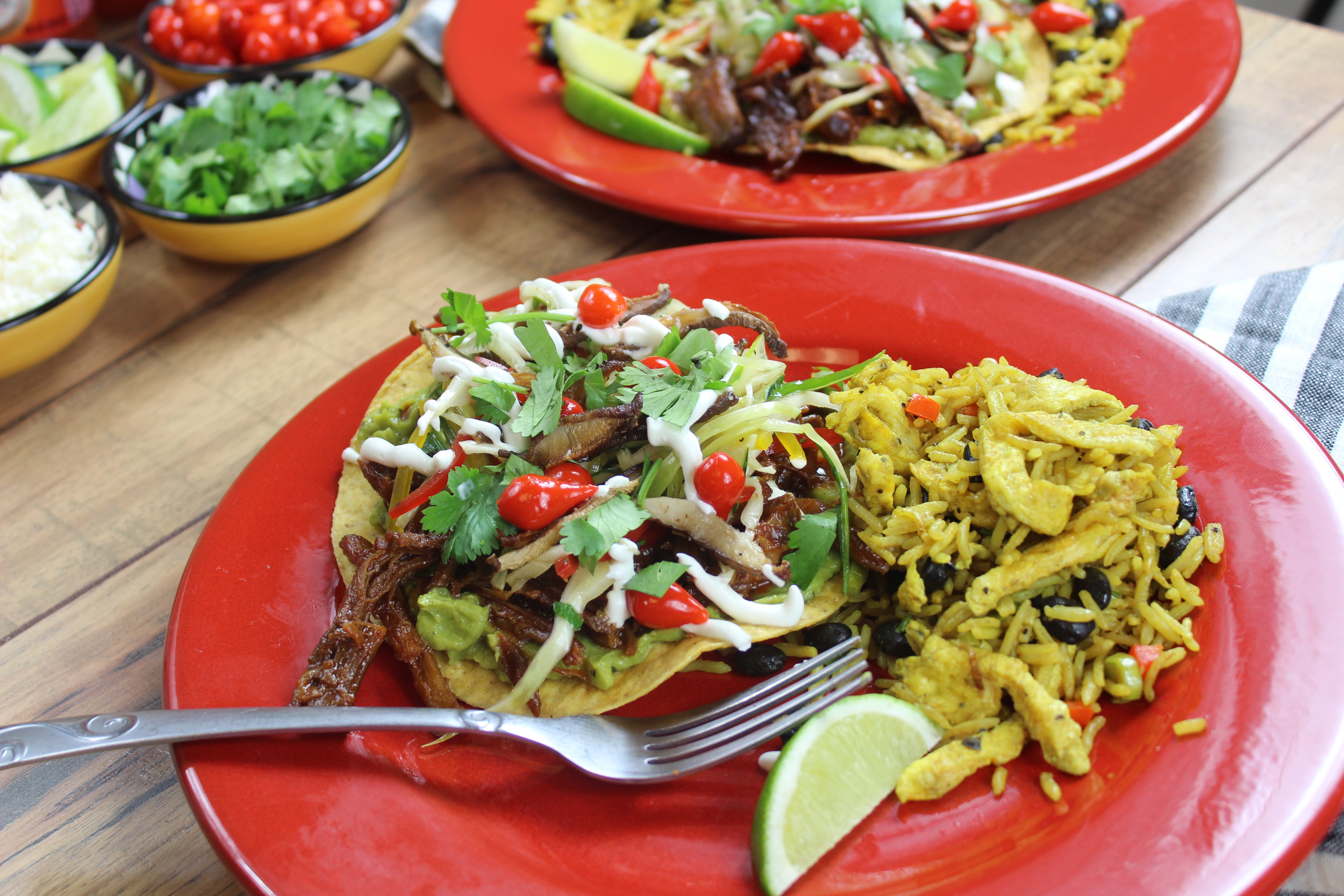 East Meets West Braised Pork Tostadas
Braised Pork:
2 Tbl. Kosher Salt
1 Tbl. Course Ground Black Pepper
2 Cups Brown Sugar
¼ Cup Smoked Paprika
2 Tbl. Minced, Fresh Garlic
2 Tbl. Minced, Fresh Ginger
½ Cup Cider Vinegar
½ Cup Soy Sauce
1 Tbl. Sriracha
1 Tbl. Mushroom Powder
4 Cups Water
5-8 pound Pork Butt
Additional Topping Ingredients (or as desired):
Tostada Shells
Avocado – mash and spread on Tostada shell
1 lb. Shiitake Mushrooms – roast with salt and pepper for topping Tostada
Queso Fresco – crumble on top
Shredded Lettuce – for topping
Red Onions – fine dice for topping
Lime wedges – squeeze on top for a zippy flavor
Sour Cream – drizzle over top
To Braise the Pork:
Preheat your oven to 350 degrees.
Cut your Cheshire Pork Butt into pieces slightly larger than your fist. Do not trim off the fat! That is part of the goodness of a Pork Butt!
Combine Salt through Mushroom powder in food processor and process until smooth. Add to a heavy stock pot (with tight fitting lid) large enough to hold your Cheshire Pork Butt. Add 4 cups of water to the pot and stir to combine. Place the pieces of Pork Butt into the liquid in the stock pot and turn them to coat completely.
Place stock pot over medium-high heat and bring to a boil. Once the liquid comes to a boil, turn off the heat and cover the pot with the lid. Transfer to your oven (set to 350 degrees). Cook for 2 hours. Remove from oven to check to see if the meat is fork tender. If not, cover with lid and place back in oven for an additional 30 minutes – 1 hour or until it is fork tender.
Remove from the oven and let cool until comfortable to handle. Remove the pork from the liquid in the pan and carefully separate the bone and large chunks of fat from the meat. Once you have separated the meat. Shred the pork using your hands or forks/knives. Place the shredded meat back into the liquid to absorb some extra goodness! Keep on the stove top over very low heat to keep warm.
While your Pork Butt is cooking, prepare your Tostada toppings. Keep these toppings in separate bowls to make Tostada assembly easy!
Wash and pull the stems off your shiitake mushrooms. Slice into ¼ inch slices and toss with olive oil, salt, and pepper. Place on a lined baking sheet and roast in the oven for 15-20 minutes or until they are slightly crispy.
Smash up the Avocado into a spreadable consistency. Cut your lime into wedges. Crumble the Queso Fresco. Chop your cilantro. Finely dice your onion. Shred the lettuce.
Prepare your Tostadas by heating the tostadas in a 350-degree oven for 3-5 minutes to crisp them up.
Once your Tostada shells are crisp and golden, spread some Avocado over the shell and start building your Tostada. Add a healthy helping of the pulled pork and top with any or all of your topping selections. A drizzle of your favorite Hot Sauce will enhance the flavor of this yummy treat.