RECIPE: CHULETA DE KAN KAN WITH APPLE MUSTARD SLAW AND BLACK BARBECUE SAUCE
Let's talk a little about the Kan Kan Chop. Our Kan Kan Chop is an item we began fabricating after an adventurous chef's request, and it has been intriguing chefs since. It is a cut first created in Puerto Rico in 1957, and it is still being served there today in a big six pound version of this chop. Ours is cut an inch and a half thick and weighs a mere two to three pounds. It consists of a bone-in loin chop, with a strap of belly and the skin still attached. Puerto Rican chefs would roast it and then finish it in the fryer to crisp the skin.
We're very excited that Chef Kevin Draper of Bin 54 Steak & Cellar was up for the challenge! He served his fried Kan Kan Chop with a delicious apple mustard slaw for a little sweet & tangy add-on. Enjoy his recipe with family and friends!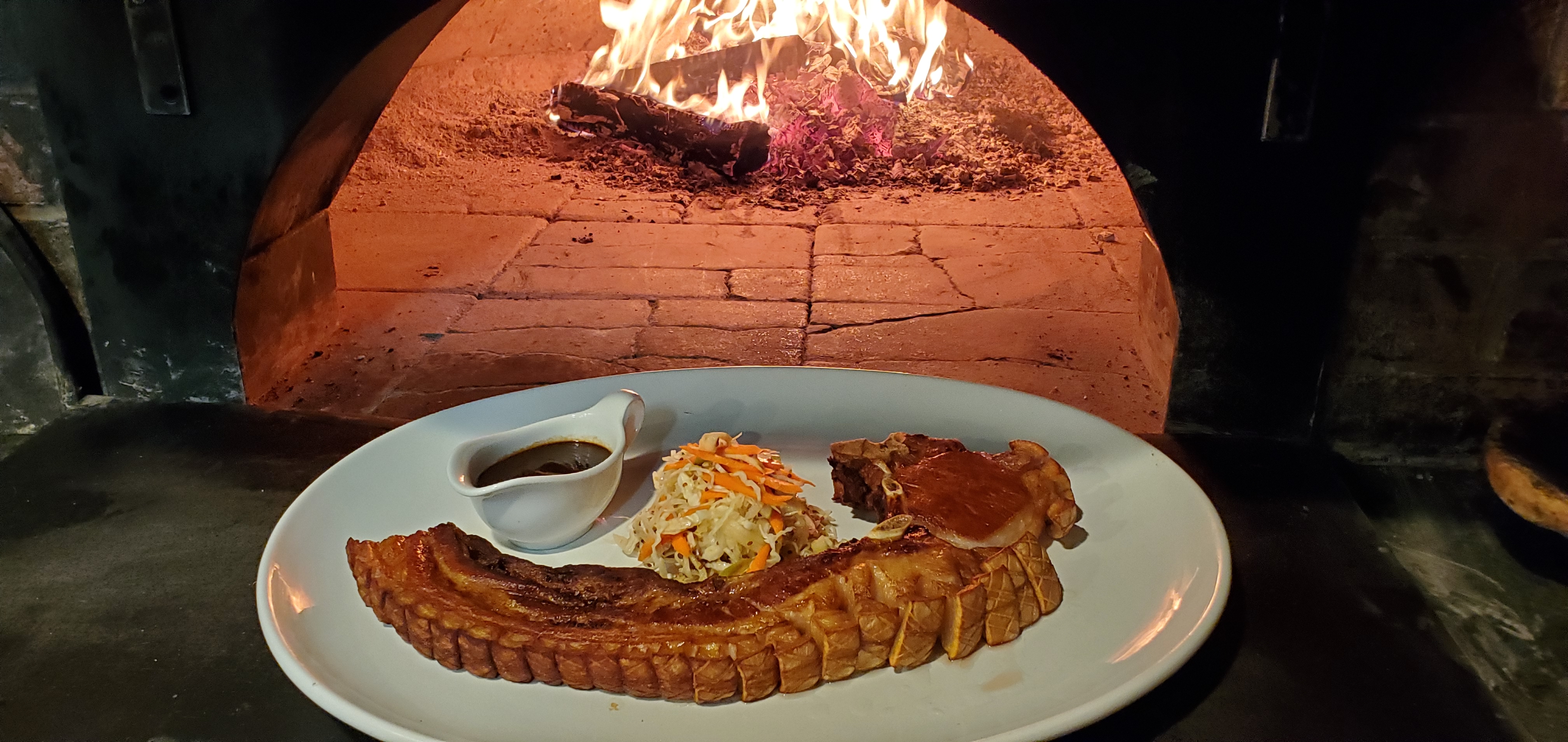 Chuleta de Kan Kan with Apple Mustard Slaw and Black Barbecue Sauce
For the chop:
Sweet tea brine for 24 hours.
1 cup brown sugar
1/2 cup kosher salt
8 cups water
8 cloves garlic
1 red onion diced
1 bunch thyme
1 tablespoon black peppercorns
4 tea bags of your preference
Combine all ingredients in a pot and bring to a boil for 10 minutes and then strain and chill. Submerge the chops for 24 hours.
After the brine, pat the chop down with a towel. Using a sharp knife score the pig skin without cutting all the way through. Next using scissors, cut through the skin about 1 inch apart and 1 inch deep. This is an extra step but totally worth it.
Smoke the chops at no more than 110 degrees for about an hour.
This next step is best done in a deep fryer but a large deep fry pan can also be used.
Heat oil to 400 degrees. Deep fry for 12 minutes. After frying let rest for 5 minutes.
Green apple and mustard slaw:
2 cups white cabbage sliced thin
1 yellow onion julienned
1 carrot julienned
1 granny smith apple julienned
Pickle:
1 cup apple cider vinegar
1 tablespoon mustard seeds
1 teaspoon celery seeds
1 bay leaf
1 cup sugar
1/2 cup whole grain mustard
1 1/2 cups veg stock or water
salt and pepper to taste
Add all the Pickle ingredients in a pot and bring to a boil then chill. Mix the other ingredients and pour the liquid over and mix again.
Its best left in a cooler over night.
Black barbecue sauce:
The base of this is black garlic which is sweet, with flavors of prune, tamarind, and balsamic
1/2 cup black garlic cloves
1 cup black rice vinegar
1 chipotle pepper, deseeded
Add all to a blender and blend smooth