RECIPE: CHEF DAVID ROSE'S SPICED POMEGRANATE PORK CHEEKS
This week on the Hog Blog we have Chef David Rose joining us with one delicious recipe for Spiced Pomegranate Pork Cheeks.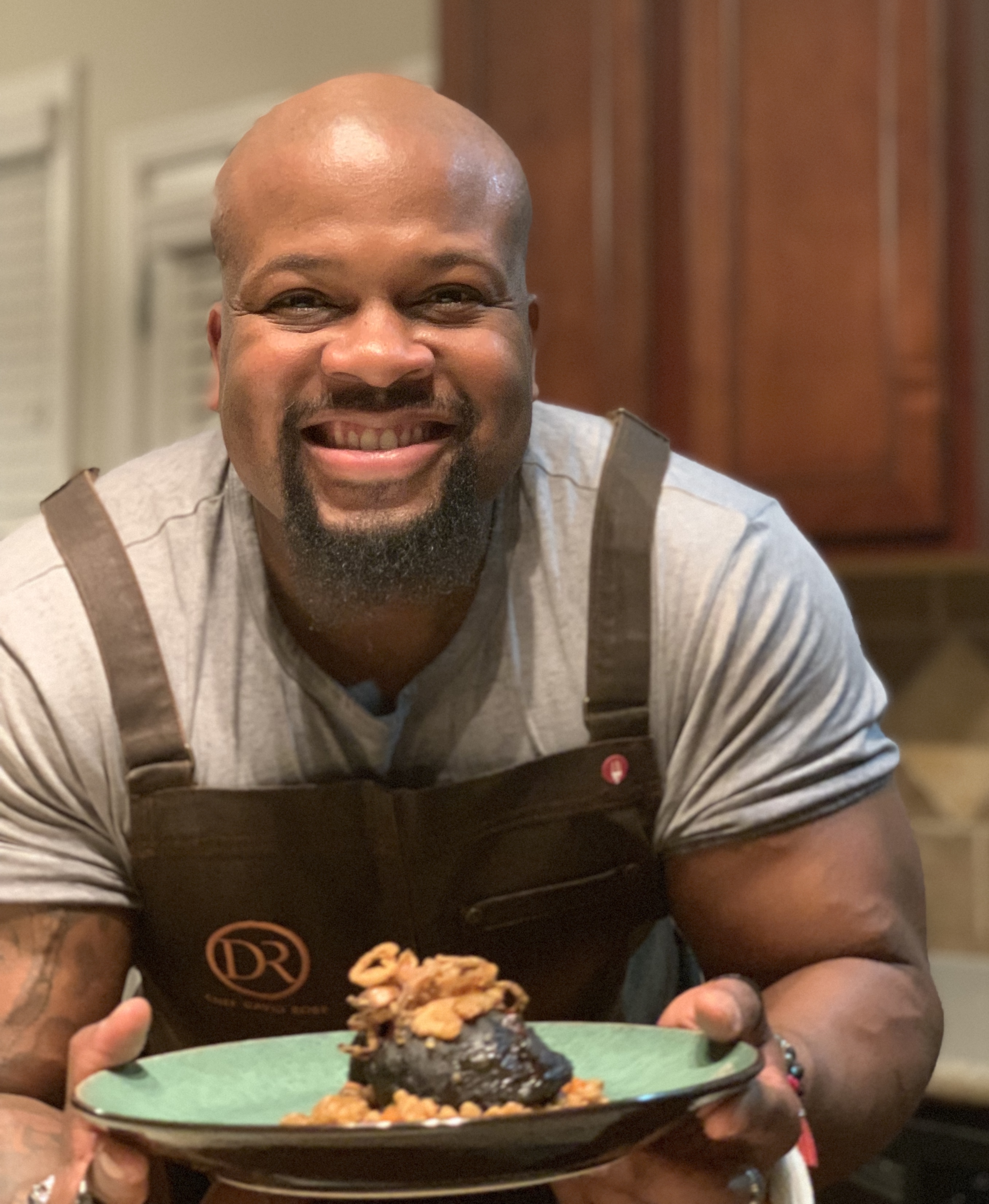 Chef David Rose was raised with a very diverse and curious palate. He was born in New Jersey to Jamaican parents that were professional chefs. Chef David's culinary interest led him to enroll at the Le Cordon Bleu Culinary Arts College (Tucker, GA), where he graduated Summa Cum Laude. Living in Atlanta for more than a decade, Chef Rose finds inspiration in his surroundings and identifies as a Southern chef. He creatively reinterprets classic Southern fare by incorporating the refinement of his French culinary training, his signature bold flavors, and the occasional flair from his family's Jamaican recipes.
Chef Rose is a Food Network/TV personality and serves as a national brand ambassador for Nissan USA, Big Green Egg, and Davidoff/Camacho Cigars. As a Big Green Egg Ambassador, Chef David is a huge grill aficionado - whenever he can, he incorporates grilled and smoked components to his dishes. Additionally,Chef David is the founder and creator of the TLC Experience (Tastings • Libations • Cigars), where he partners with spirits and cigar companies to create extraordinary, one-of-a-kind dining experiences.
Last year, Rose appeared as a finalist on Food Network Star (Season 13), cooking head-to-head with Bobby Flay and receiving praise from Giada de Laurentiis. Chef David Rose regularly appears as a guest chef on The Steve Harvey Show, Food Network, Hallmark Home & Family, Pickler & Ben, HLN, Sisters Circle Live, Fox & Friends, local morning shows across the country, and as a celebrity chef judge for the CBS Chef's Classic.
We're honored to have such an award-winning and talented chef on our Hog Blog. Now, let's get cooking!
Spiced Pomegranate Pork Cheeks with Farro "Risotto" & Crispy Shallots
Serves 3 to 4 people
Ingredients:
9 Cheshire Pork cheeks (trimmed)
3 ribs of celery diced
2 medium carrots small diced
1 whole diced medium yellow onion
2 whole smashed garlic cloves
3 diced Calabrian chilies
4 tablespoons olive oil
3 tablespoons Goya sofrito
1 cup Port wine
1 cup pomegranate juice
2.5 cups beef stock
1/2 teaspoon Berbere spice blend
1 tablespoon smoked paprika
1 tablespoon kosher salt
1 teaspoon cracked black pepper
1 teaspoon garlic powder
1 teaspoon onion powder
Directions:
Pat pork cheeks dry with a paper towel.
Season pork cheeks evenly with dry spices
In a cast iron Dutch oven, add 4 tablespoons olive oil, and turn heat to high.
Get a nice hard sear on all sides of the pork cheeks; sear in batches to not over crowd Dutch oven. (About 3 to 4 minutes on each side)
Remove pork cheeks from Dutch oven, reduce heat to medium high heat and add onions, carrots, celery, garlic and Calabrian chili. Sauté until fragrant, caramelized and tender. About 4 to 5 mins.
Add sofrito and sauté for an additional 2 minutes, add port wine and pomegranate juice; reduce by a 1/3.
Add beef stock, return to a boil and add pork cheeks back into Dutch oven, reduce to medium low simmer and braise for about 1.5 hours until for tender.
Crispy shallots
Ingredients:
2 shallots sliced
1/2 cup whole milk
1/2 cup all purpose flour
1 teaspoon kosher salt
1 teaspoon black pepper
1/2 teaspoon paprika
Canola oil for frying
Directions:
Place sliced shallots in a medium bowl and cover with milk, allow to stand for 10 mins.
In another medium bowl, whisk together dry ingredients.
Remove shallots from milk and toss into seasoned flour.
In a small sauce pot, fill about 2" high with canola oil, and bring to medium high heat.
Shake off excess flour from shallots, and fry until lightly golden about 2 to 3 mins; remove from oil and drain on paper towel lined plate.
Farro "Risotto"
Ingredients:
1 cup Italian Farro grain
1/2 diced medium yellow onion
1 medium carrots small diced
3.5 oz sliced shiitake mushrooms
5 tablespoons olive oil
4 cups beef stock
1/4 cup chopped parsley
1/4 cup freshly grated Parmesan cheese
Directions:
In a medium sized sauce pot bring beef stock to a rolling boil, then reduce to a simmer
In a medium sized sauce pot, add olive oil and bring to medium high heat.
Add onions and carrots and sauté until slightly caramelized, about 2 to 3 mins.
Add mushrooms, a pinch of kosher salt and fresh cracked pepper; sauté until mushrooms are tender, about 3 to mins.
Add farro grain, and sauté until slightly caramelized and fragrant; about 2 to 3 mins.
Add 1/2 of beef stock, and reduce to medium heat.
Simmer until, almost all liquid is gone then add the rest of beef stock.
Once farro becomes tender, and takes on "risotto" like consistency, finish with Parmesan cheese and parsley. Season to taste with salt and pepper.