RECIPE: CHEF STEPHEN MCHUGH'S IMOTO GREEN CURRY PORK DUMPLINGS
It always excites us a great deal when a chef shares an innovative recipe with us using our delicious product. Chef Stephen McHugh from Imoto in Dallas, TX created beautiful and vibrantly green pork dumplings filled with a #CheshirePork Picnic Roast mixture combined with eggplant and cilantro. Our mouths are watering. Get your chop sticks ready and dive in!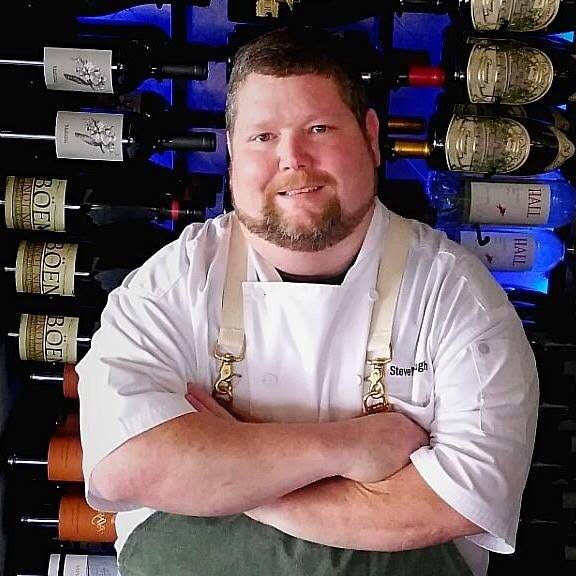 Imoto Green Curry Pork Dumplings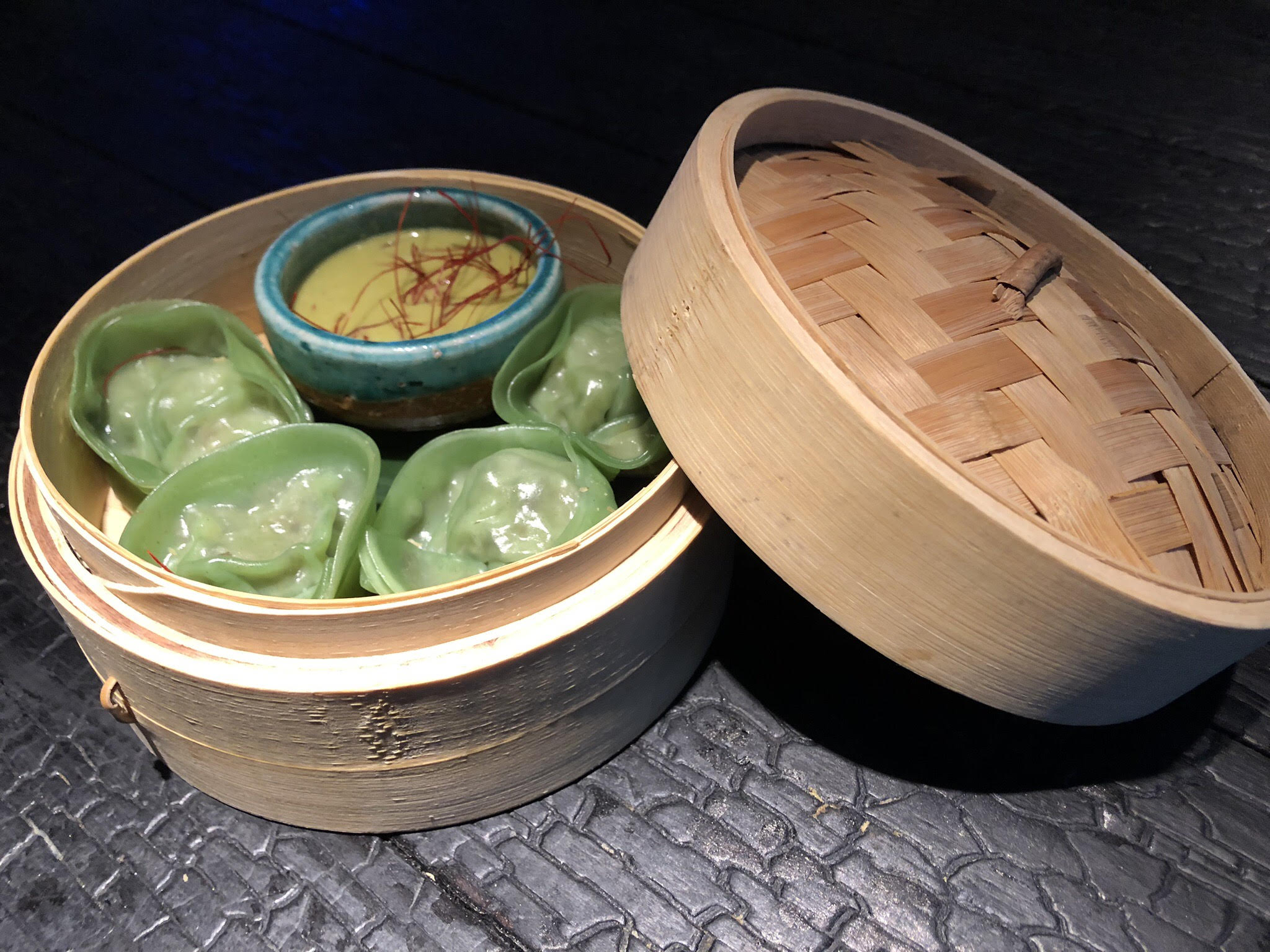 FOR THE GREEN CURRY SAUCE
30 EA GARLIC, CLOVES, ROUGH CHOPPED
3 EA SHALLOTS, ROUGH CHOPPED
4 EA LARGE PIECE GINGER, ROUGH CHOPPED
1 EA LEMONGRASS, CHOPPED
10 EA KAFFIR LIME LEAVES
2 QUART SAKE
2 C. MIRIN
2C. RICE WINE VINEGAR
1 #10 CAN COCONUT MILK
¼ C. GREEN CURRY PASTE
1 BUNCH CILANTRO
4 C. PACKED SPINACH
IN LARGE RONDEAU, PLACE FIRST 8 INGREDIENTS. HEAT AND ALLOW TO REDUCE BY HALF
STIR IN COCONUT MILK AND CURRY PASTE. BRING TO A BOIL AND THEN SIMMER 2 HOURS.
STIR IN CILANTRO AND STEEP 30 MIN.
STRAIN MIXTURE THROUGH CHINA CAP AND CHILL.
ONCE CHILLED, BLEND IN SPINACH.
STORE IN 4 EA - 1 QUART CONTAINERS IN REFRIGERATOR
FOR THE CHESHIRE PORK PICNIC ROAST
1 CHESHIRE PORK PICNIC ROAST
6 LARGE SOUS VIDE BAGS
12 CUPS GREEN CURRY SAUCE
8 PCS CHINESE EGGPLANT
1 CUP CHOPPED CILANTRO
BREAK PICNIC ROAST DOWN INTO 2" CUBES
DIVIDE THE 2" CUBES AMONGST THE 6 VACUUM BAGS
ADD 2 CUPS OF THE GREEN CURRY SAUCE TO EACH BAG AND SEAL
SOUS VIDE THE SUBMERGED BAGS FOR 14 HOURS @ 165 DEGREES FAHRENHEIT
COOL THE BAGS AND SHRED THE PORK RESERVING THE LIQUID.
FINE DICE THE EGGPLANT AND SAUTE IN SESAME OIL UNTIL MOST OF THE MOISTURE IS REMOVED AND CARAMELIZATION HAS OCCURRED. COOL THE EGGPLANT ON A SHEET PAN IN A REFRIGERATOR.
FOLD THE COOLED EGGPLANT AND CHOPPED CILANTRO INTO THE PORK MIXTURE. IF MIX IS DRY – ADD A LITTLE OF THE RESERVED COOKING LIQUID TO CREATE A MOISTE FILLING.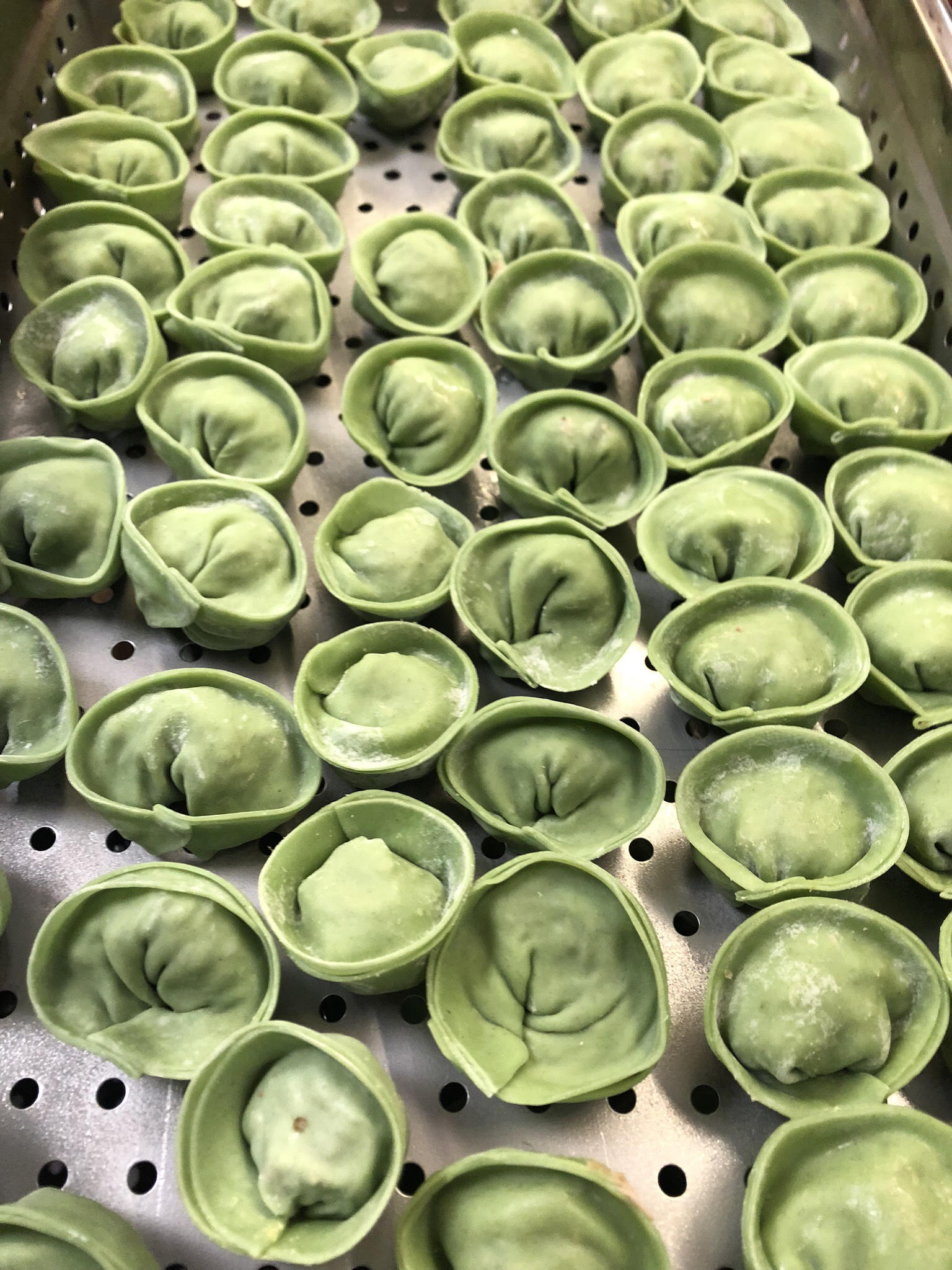 FOR THE DUMPLINGS
2 PACKAGES OF ROUND GYOZA WRAPPERS – WE USE GREEN FOR THIS DISH
SHREDDED PICNIC ROAST & EGGPLANT FILLING
4 LARGE EGGS – SCRAMBLED TO SEAL THE GYOZA WRAPPER
RESERVED GREEN CURRY SAUCE FOR PLATING
PLACE GYOZA WRAPPER ON CUTTING BOARD AND PLACE A SPOONFUL OF THE PORK AND EGGPLANT MIX IN THE CENTER
MOISTEN THE EDGE OF THE WRAPPER WITH THE EGG WASH
FOLD OVER THE WRAPPER TO CREATE A HALF MOON
BRING THE TIPS OF THE MOON TOGETHER TO CREATE THE DUMPLING
SERVING THE DUMPLINGS
STEAM THE DUMPLINGS FOR 12 MINUTES TO COOK THE WRAPPER AND WARM THE FILLING.
WARM THE RESERVED GREEN CURRY SAUCE AND SERVE WITH THE DUMPLINGS – GARNSISH WITH SCALLION WINGS AND CHILI THREADS.